Online physiotherapy and digital rehabilitation offers endless possibilities when it comes to allowing the physiotherapist to monitor their own remote physiotherapy treatments at home, bringing clinical assistance to anyone who needs it, anywhere.
Global healthcare moves towards increasingly complex digitization systems ein the interest of the development and evolution of the sector. This is an objective of the Organización Mundial de la Salud (REHAB 2030); Build a rehabilitation system that is universal, integrative, accessible and multi-disciplinary that is endorsed and supported by world governments.
Following this objective, our maxim as a company is to achieve this universality and accessibility. That is why we created a product that can be used by anyone with a smartphone or laptop that has an integrated camera, wherever you are. No downloads are required and with a standard internet connection.
TRAK was created to make the work of rehabilitation professionals easier and to increase patients' adherence to treatment.
Lack of adherence is a complex concept that materializes in the form of barriers, physical or psychological, that prevent the patient from adapting to the treatment stipulated by the professional in charge of his case, in this case his physiotherapist or rehabilitation doctor.
Since TRAK is a digital rehabilitation software to prescribe therapeutic exercise to patients, our treatment is exercise protocols as a therapeutic tool and therefore we also talk about exercise adherence.
Want to know how it works? Then read on.
Digital Physiotherapy in 5 steps
In order for the patient to begin his or her home physical therapy program, he or she must access the following website app.www.trakphysio.com and log in with the credentials provided by your physical therapist. These credentials are generated automatically when a new exercise program is created by the healthcare professional and sent by e-mail, ensuring communication between physiotherapist and patient.
Once logged into the platform, the patient will see in the TRAK menu the therapeutic exercise protocol that has been prepared by the professional in charge of their case using our exercise library, as shown in the image.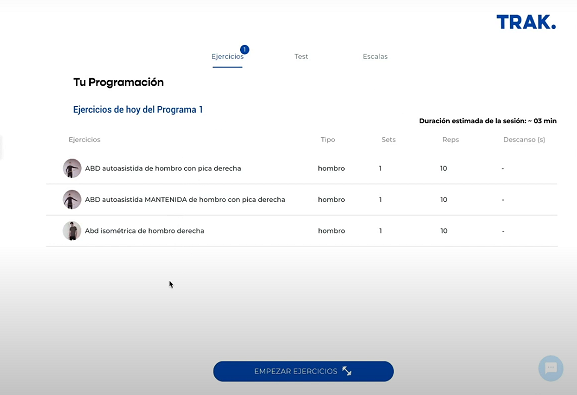 On this screen, the patient can easily observe which therapeutic exercise protocol includes the number of exercises to be followed, how many exercises are included in the protocol and how long the protocol will last. In addition, you can contact the professional in charge through the integrated chat.
Then, simply click on the blue "Start Exercises" button to begin your protocol and follow these 5 easy steps to complete your TRAK training:
In the first place, cannot forget that it must grant the permissions required to the application in order to use the camera of your device. This will make our software run smoothly and the patient will be able to see themselves on screen performing the exercises.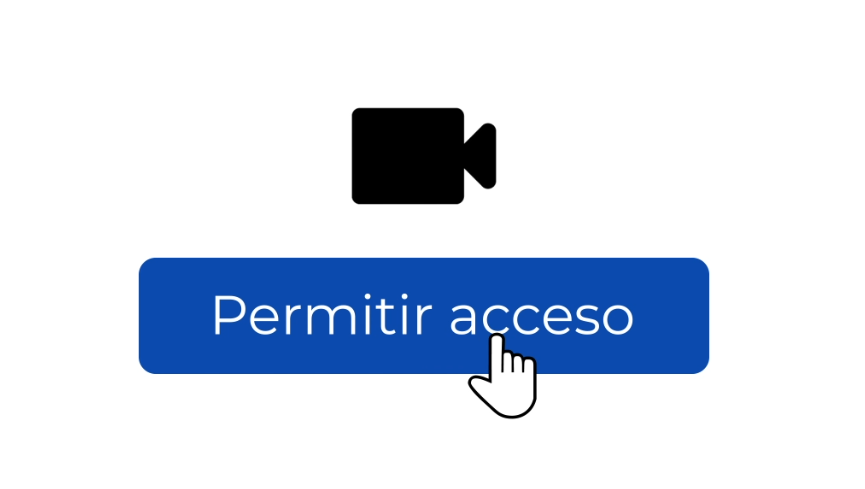 In second place, should prepare the material to perform your protocol. Before each exercise we will tell you what equipment you need to perform it correctly. You can choose between a stick, a ball, a dumbbell, etc. In case you don't have them…it doesn't matter! We invite you to substitute them for elements that you can find at home such as a mop stick, a cushion or a milk carton.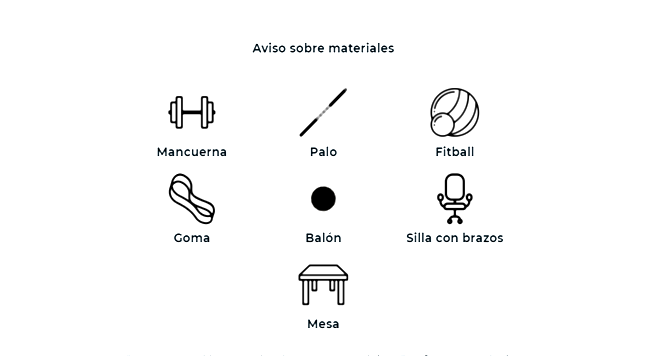 The exercise will then be explained to you so that you do not make any mistakes and TRAK detection will begin. You must be at a suitable distance so that the artificial intelligence of our software can detect you. When the detection is complete, the two indicators on the screen will turn green and a virtual exoskeleton will appear on the patient.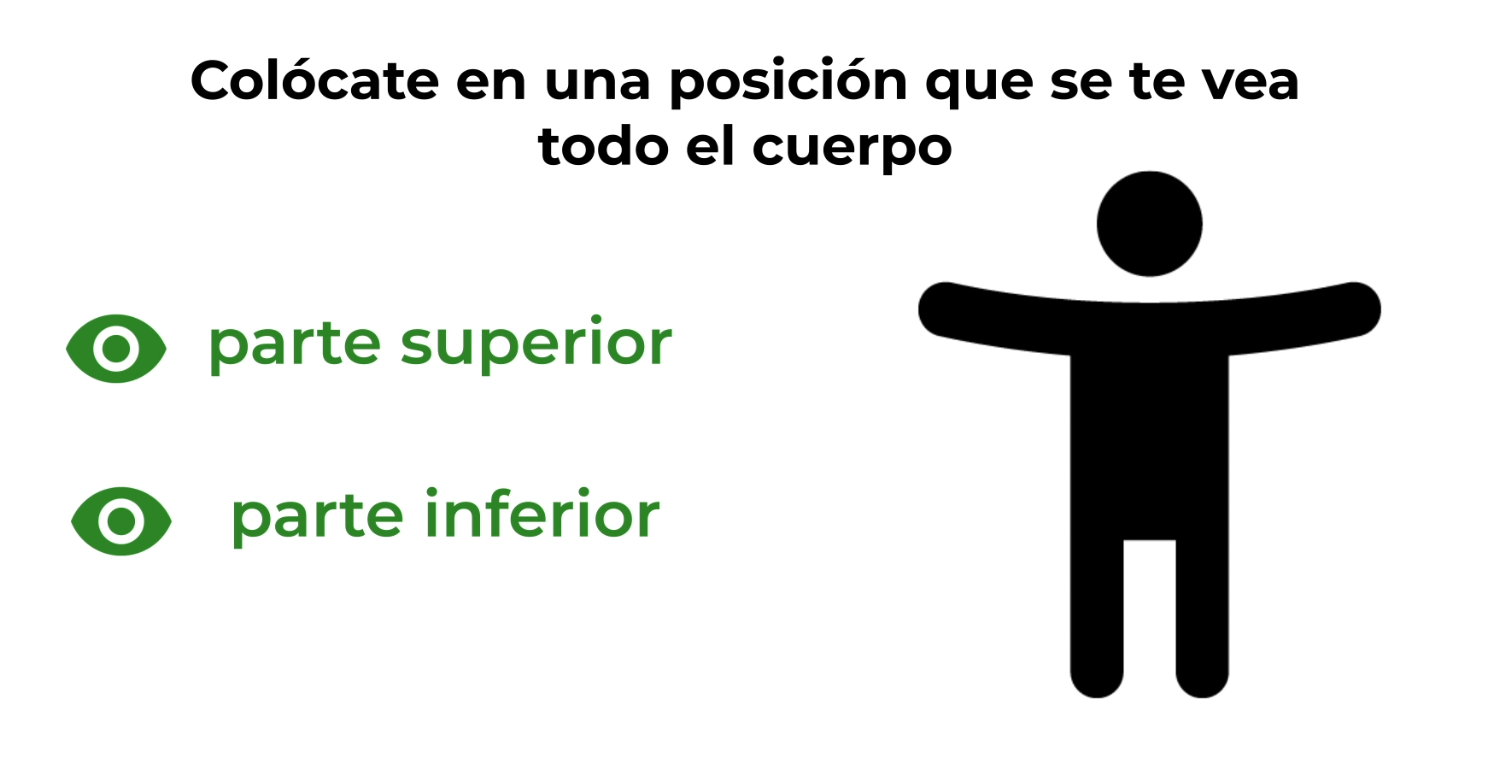 Now the exercise will start, just imitate the video of our physiotherapists! You will need to pay attention to the on-screen corrections and voice corrections to make sure you do not make any mistakes.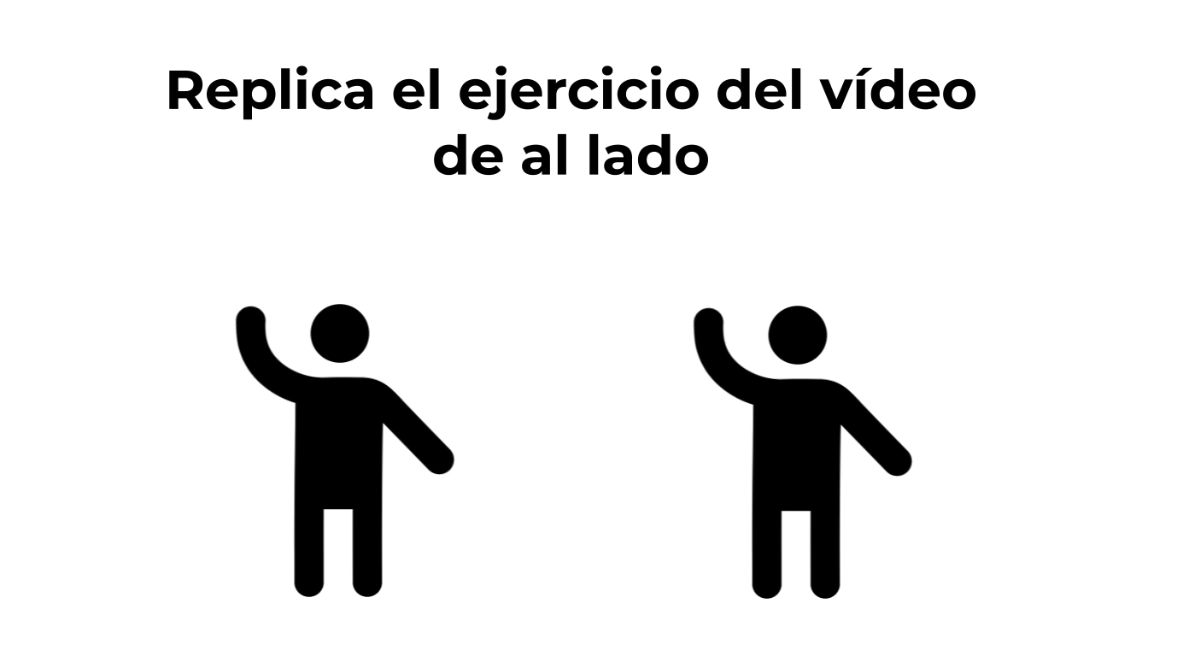 At the end of the protocol you will fill out the pain and satisfaction scales shown to tell your physical therapist how the session went and how you are feeling.
In this way, TRAK offers online, digital, secure and quality physiotherapy.