TRAK.EVENT II- Digital physiotherapy: Fad or trend?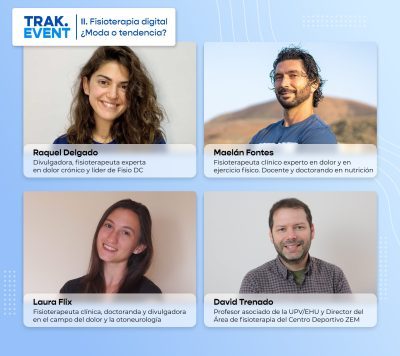 FILL IN THE FORM TO RECEIVE YOUR ACCESS TO THE CONTENT TOTALLY FREE!
Do you want to know the implementation of digitization in physiotherapy and know if it has come to stay?
Representatives of the sector such as Maelan Fontes, Laura Flix, Raquel Delgado and David Trenado have told us about their experience with digital physiotherapy.
Interventions by our experts in digital physiotherapy to address the issue of the implementation of digitalization in physiotherapy
For professionals in the physiotherapy sector and clinics
Is digital physiotherapy a fad or the future of the profession?
Digital physiotherapy is revolutionising the way we approach the rehabilitation and care of our patients. By harnessing the latest technologies and advances in healthcare, this form of physiotherapy offers an innovative and effective approach to optimise treatment outcomes.
It combines the experience and expertise of physiotherapists with digital tools such as mobile applications, wearable devices and online platforms. These technologies enable remote monitoring of patients, real-time data collection and personalisation of treatment plans.
One of the key advantages of digital physiotherapy is its ability to provide continuous care and convenient access to rehabilitation services. Patients can perform guided exercises from the comfort of their homes, through instructional videos and real-time monitoring.
This not only saves time and travel, but also encourages adherence to treatment by offering greater flexibility.This type of physiotherapy also allows for accurate monitoring of the patient's progress and response to treatment.
Data collected by devices can provide detailed information on biomechanics, balance and muscle strength. This objective information allows physiotherapists to more accurately assess the patient's progress and adjust the treatment plan as needed.
These points and more will be discussed in this TRAK.EVENT.
Do you have any questions you would like to clarify?
Book a video call with one of TRAK's experts
Lo último
The 7 Major Benefits of Telerehabilitation

Introduction to Telerehabilitation In our digitally advanced society, healthcare is not left behind. Telerehabilitation is one of the sweetest fruits of the digital age in the medical world. But what is it, and why is it so relevant? A Glimpse into the Future of Rehabilitation What is Telerehabilitation? It's the[...]

Leer más