TRAK.EVENT I: Digital Transformation in Physiotherapy and Rehabilitation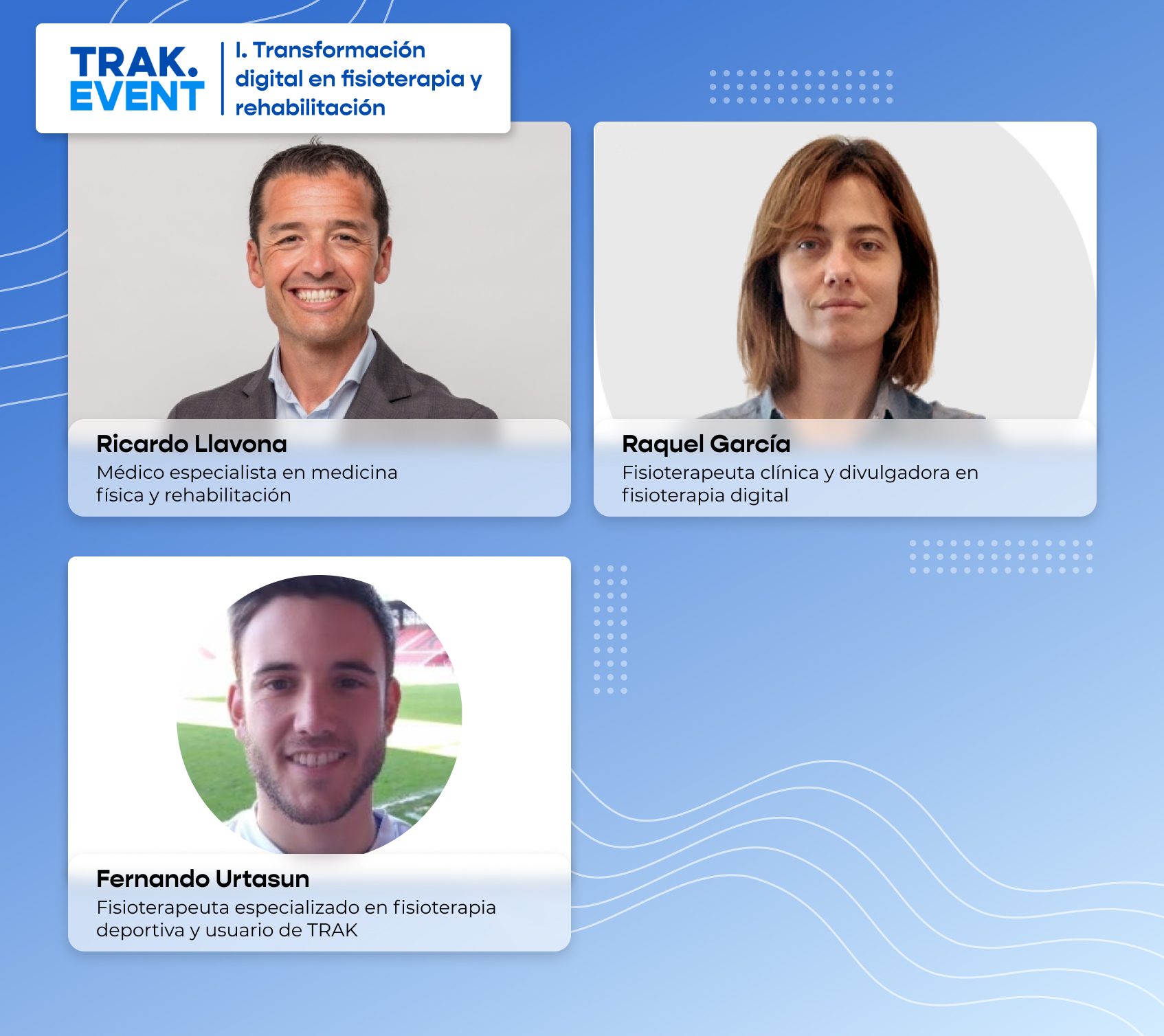 FILL IN THE FORM AND JOIN THE DIGITAL TRANSFORMATION IN PHYSIOTHERAPY
Do you want to meet our special guests who are experts in digital health?
Ricardo Llavona digital health expert and Raquel García Tarrazo expert and disseminator digital physiotherapy, join Carlos Rodríguez-Sierra and Francisco J. Pareja, members of the TRAK team to educate on telerehabilitation.
Masterclass with experts in digital health
For healthcare professionals
Digitalization, rehabilitation and health
The WHO defines telemedicine as "the provision of health services, where distance is a critical factor, by health professionals through the use of information and communication technologies (ICTs) for the exchange of valid information for diagnosis, treatment, disease prevention, research and evaluation and for the continuous training of health professionals, all with the ultimate goal of improving the health of the population and communities.
It is undeniable that, as in any area of ​​our lives, technology has broken into the health sector, modifying habits, protocols, work methodologies, treatments and patient monitoring .
In the same way, digital medicine represents not only the advancement of medical science, but also a giant step in terms of social and socio-sanitary benefits, empowering the patient and making them a participant in their own treatment.
These are some of the reasons why hospitals and clinics, health organizations and national health systems are focusing their attention on the implementation of digital solutions for the problems of our current health.
The latest analyzes of current policies on telemedicine and digital health identified challenges in areas such as the reimbursement of investments dedicated to health, security and privacy. They suggest that more regulatory work is needed in the areas of operationalization, implementation, and international law.
For this reason, the collaboration and cooperation of health systems is required to generate adequate regulation and for countries to realize the benefits of implementing these technologies.
Germany and Belgium are leading the initiative to make their market for medical applications more accessible. Global trends would indicate a broad international convergence in terms of transparency, health content, interoperability, privacy and security and the search for means to offer applications through different channels, such as national portals or through an application directory.
Do you have any questions you would like to clarify?
Book a video call with one of TRAK's experts
Lo último
The 7 Major Benefits of Telerehabilitation

Introduction to Telerehabilitation In our digitally advanced society, healthcare is not left behind. Telerehabilitation is one of the sweetest fruits of the digital age in the medical world. But what is it, and why is it so relevant? A Glimpse into the Future of Rehabilitation What is Telerehabilitation? It's the[...]

Leer más