TRAK.EVENT IV: Digital Active Aging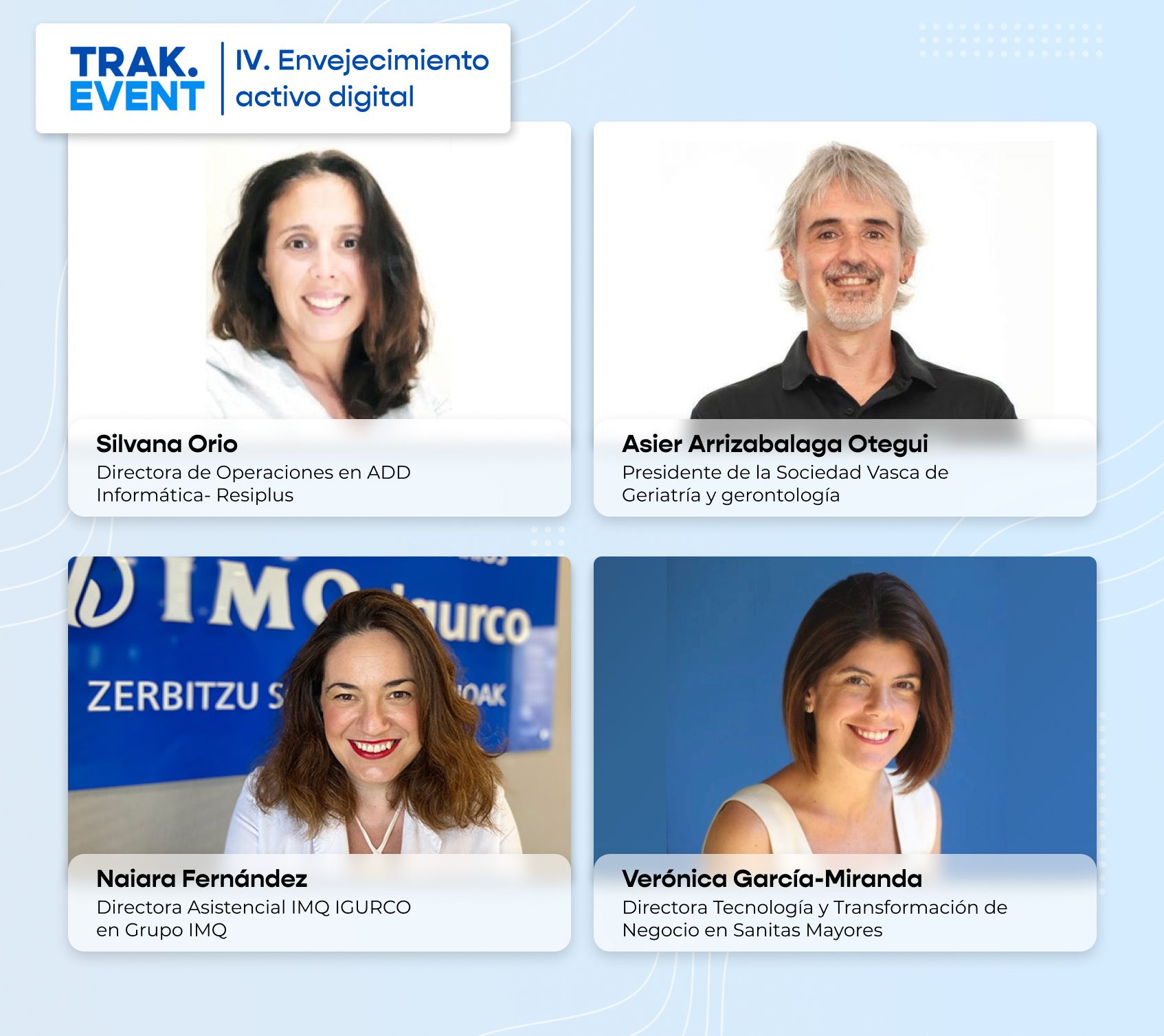 FILL IN THE FORM TO RECEIVE YOUR ACCESS TO THE CONTENT TOTALLY FREE!
Do you want to know the latest advances in management, innovation and active aging from experts in the residential field?
Representatives of the most important institutions in geriatrics and gerontology in the country come together to talk about active aging and the role of digitalization in the management of geriatric patients.
Thus, we have the participation of experts from
An unprocedented masterclass on trends in innovation in the residential sector
For geriatric professionals and managers of residential centres.
Active aging as a fundamental tool for an aging population
Although the terms "digitalization" and "older people" may seem incompatible, the reality is different. Although they were not born with a laptop under their arms, our current generations of older people are not lagging behind when it comes to going digital.
But before we get into the subject, let's look a little at the issue of the ageing population:
According to the United Nations (UN), by the year 2050 the number of people who will be over the age of 60 will approach 2.1 billion, which is a growth of almost 7 points compared to the figure consisting of 2020. In addition, the number of people aged 80 and over is projected to triple to 426 million.
This is largely due to the fact that people are living longer than ever before. The majority of the population has a life expectancy of 60 years or more. As a result, the proportion of older people in the world's population is increasing.
For its part, the World Health Organisation (WHO) speaks of ageing as the result of the accumulation of a wide range of molecular and cellular damage over time, leading to a gradual decline in physical and mental capacities, an increased risk of disease and, ultimately, death.
This, as can be assumed, implies one of the greatest healthcare challenges of our time precisely because of the clinical picture that accompanies an elderly person. The increase in life expectancy, in combination with other public health problems such as sedentary lifestyles and diet, makes it essential to find solutions for the care of the elderly.
It is therefore necessary to promote active ageing by encouraging older people to adhere to exercise protocols in order to increase their quality of life.
Do you have any questions you would like to clarify?
Book a video call with one of TRAK's experts
Lo último
The 7 Major Benefits of Telerehabilitation

Introduction to Telerehabilitation In our digitally advanced society, healthcare is not left behind. Telerehabilitation is one of the sweetest fruits of the digital age in the medical world. But what is it, and why is it so relevant? A Glimpse into the Future of Rehabilitation What is Telerehabilitation? It's the[...]

Leer más