TRAK.EVENT: Digital transformation in physiotherapy and rehabilitation
As we told you a few weeks ago, digital health is a booming discipline that is increasingly implemented in our society.
Video-consultations, access to medical records via applications, appointment booking via web, etc. What seemed unthinkable before is happening today thanks to the union of technology and healthcare. Both in public health systems and in private entities, from insurance companies to hospitals.
This evolution has also been observed in the field of physiotherapy and rehabilitation. A discipline that was thought to be eminently physical, i.e. requiring face-to-face attendance, is also undergoing its expansion towards digitalization, known as telerehabilitation.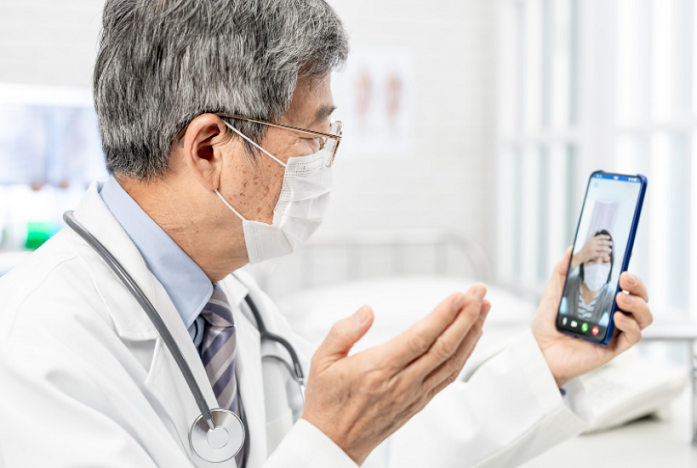 The pandemic made it clear that there was a need to find a way to ensure that treatment did not stop in hospitals and rehabilitation wards. With the world's healthcare systems collapsed by the incidence of Sars-Cov-2, face-to-face care in health centers and hospitals was suspended and a multitude of patients, with different pathologies, were left in a kind of healthcare limbo for months.
As a result, professionals from all over the world sought ways to provide this assistance to their patients, so that they could be monitored and continue to make progress in their treatment or recovery without the need for the aforementioned face-to-face attendance. In this way, remote assistance, although it had already been confirmed by the WHO in the proyect we mentioned in the previous post, has taken on more importance than ever before.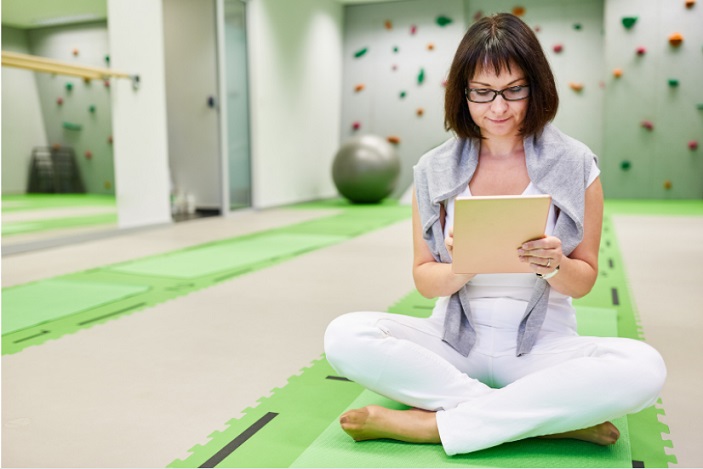 From this idea, from the need to bring physiotherapy to all those who need it, war born TRAK. The idea of our platform arises in a period in which digital health is booming and is positioned as a necessity for the different health services. But, what are the real benefits of these new tools? where does this current of thought lead us? how do I introduce them in my daily clinical practice?
To answer these and other questions, we present you with the first TRAK.EVENT, entitled Digital transformation in physiotherapy and rehabilitation, to which we invite you to attend on November 10, 2021 so that you can expand your knowledge about digital health and tele-rehabilitation and hear from professionals and experts in the field what their experience has been with this type of tools and what they believe will be the next step in the technological evolution of the sector.
Special Guests at the Event
We would like to introduce you to our special guests:
Ricardo Llavona
Specialist in physical medicine and rehabilitation // Responsible for the rehabilitation area of the Ibermútua Group in Asturias // Responsible for the Ramon y Cajal Institute in Gijón // Founding partner of the group Biocrew Healthcare.
Ricardo is an expert in digital health and with his intervention he intends to bring us closer to the current state of this discipline and the importance that the use of digital tools is gaining in the different health disciplines and in his field, rehabilitation. He will also provide his opinion and critical eye on the evolution and implementation of this type of technology within the health field.
Raquel García Tarrazo
Physiotherapist and manager of the clinic Raquel García Tarrazo // Expert and disseminator in Digital Physiotherapy.
As a pioneer in the implementation of digital health in physiotherapy, Raquel will tell us about her experience and how she introduced this type of tools in her daily clinical practice. Her experience as a clinical physiotherapist and with this type of tools will provide us with the point of view of an advocate and disseminator of this discipline.
Fernando Urtasun
Physiotherapist and manager of the clinic Fisioterapia Urtasun // Expert in Sports Physiotherapy.
Fernando will tell us about his experience as a user of our platform, TRAK. As a success story, he will give us his opinion on how it works and tell us about the possibilities it offers and its potential as a clinical tool.
Lastly, as masters of ceremonies we will haveCarlos Rodríguez-Sierra, COO and founding partner of TRAK Health Solutions and to Francisco José Parejaexpert in digital physiotherapy and member of TRAK.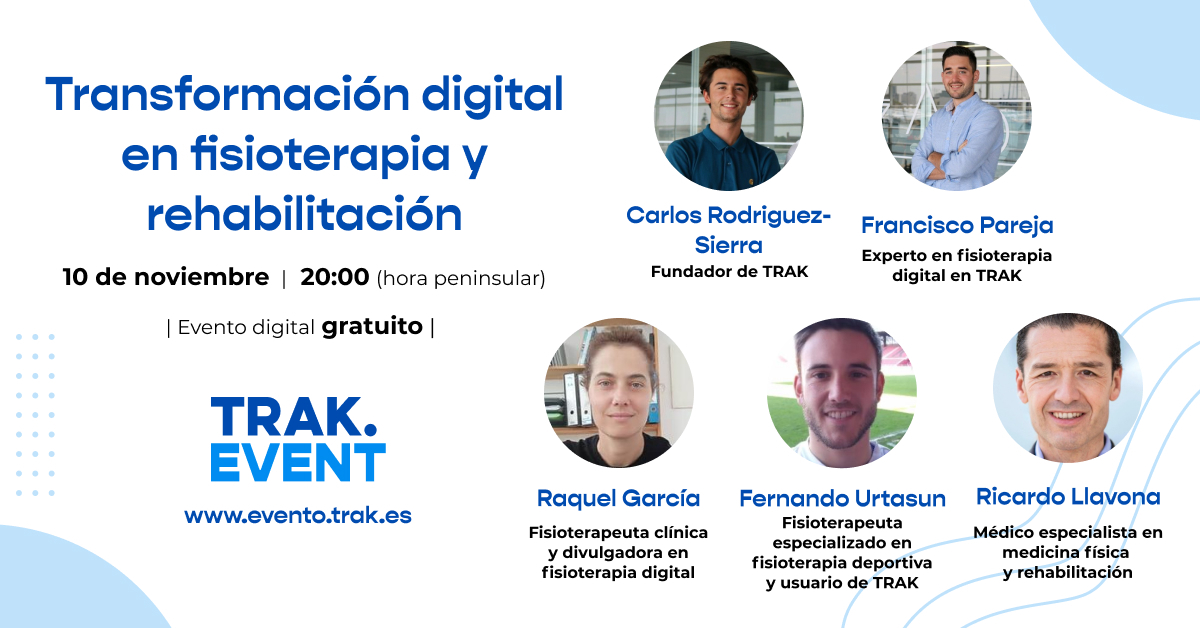 If you want to know the latest trends on digital health and digital transformation in physiotherapy, we are waiting for you on 10/11/2021 via online. You can sign up at the following link: https://evento.www.trakphysio.com/.