TRAK.EVENT III: Impact of Digitalization in Healthcare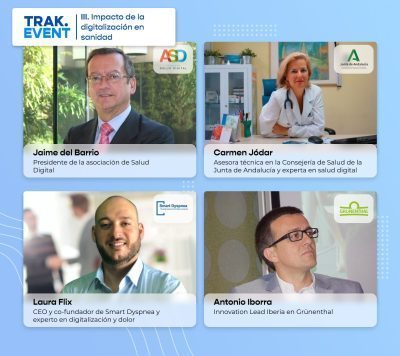 FILL IN THE FORM TO RECEIVE YOUR ACCESS TO THE CONTENT TOTALLY FREE!
A masterclass with our experts on digitalization in healthcare
For health professionals and health centre managers
What has been the impact of digitalisation on the field of healthcare?
Digitalization has transformed the way medical services are delivered and improved access to healthcare. Below we will explain some of the advances that digitisation has enabled:
First, the development of telemedicine. Thanks to telemedicine, patients can make online medical consultations, obtain diagnoses, receive medical guidance and follow up on their health conditions, all without the need to physically visit a doctor's office.
This has improved access to healthcare, especially for people who live in remote areas or have difficulty travelling.In addition, digitalization has had an impact on drug research and development.
The use of data analysis tools and computational modelling has accelerated the process of drug discovery, identification of therapeutic targets and optimisation of clinical trials.
In addition, the collection and analysis of large-scale health data has enabled the identification of patterns and trends that can lead to advances in personalised medicine and disease prevention.It has also enabled the transition from paper-based medical records to electronic formats.
This facilitates the storage, management and exchange of medical information between different healthcare providers and improves care coordination, reduces medical errors and streamlines administrative processes.
On the other hand, advances in technology have led to the creation of more sophisticated medical tools and devices. Digitisation has enabled the adoption of technologies such as digital medical imaging, radiology information systems, digital electrocardiogram records and remote patient monitoring.
These technologies improve the accuracy and efficiency of disease diagnosis and facilitate the monitoring of patients' health.
These are some of the impacts of digitalization on healthcare, experts will discuss these and many more at this TRAK.EVENT.
Do you have any questions you would like to clarify?
Book a video call with one of TRAK's experts
Lo último
The 7 Major Benefits of Telerehabilitation

Introduction to Telerehabilitation In our digitally advanced society, healthcare is not left behind. Telerehabilitation is one of the sweetest fruits of the digital age in the medical world. But what is it, and why is it so relevant? A Glimpse into the Future of Rehabilitation What is Telerehabilitation? It's the[...]

Leer más